HELICOPTERHUNTS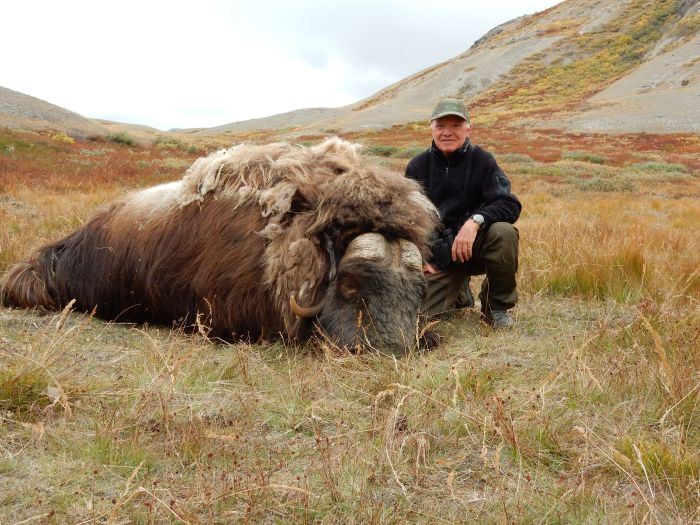 We are doing a testhunt tour 3 2023, and this hunt you can book as single hunter. Special price 7000 euro incl one musk-ox and one caribou.
All our autumnhunts can be arranged as helicopter hunts, where we fly out to the huntingarea far away from Kangerlussuaq. But due to temperature, both for comfort and storage of trophies, we recommend tours from mid august to mid september.
Normally all spots on a hunt have to be booked as a group.
Ask for price.
The benefits is that we get far away to a area with alot of musk-ox, and rarely any other people. So the animals can often be spotted from camp. Trophies and meat still have to be carried back to camp, and all hav eto help with that, but often shorter distances. Depending on where the animals are, the camp will be next to a lake or river if possible, so transport partially can be done with boats.
Camp is a basic tentcamp, small sleepingtents for 2 persons a tent, and a bigger kitchentent for eating, drying clothes etc. There will be inflatable sleeping mats.
There will be 1 guide pr 2 hunters, and there will be some work with cutting meat, salting and drying meat, skinn and preserve trophies, and different campwork. So its nescessary that everybody help out so the guides have time enogh for everything.
Hunters can expect that they will be in charge of cooking, so the guides have time to take care of trophies and meat. We bring normal food, breakfast products, bread and coldmeats, and we eat the meat from the animals we shoot, with potatoes and rice etc. We dont use any freze dried foods.
There can be 4-6 hunters pr tour. More expensive with just 4 hunters, but then its possible to buy a extra animal for each hunter, wich is not possible with 6 hunters because the weightcapacity of the helicopter is fully used at the return flight.
There is 6 full huntingdays.
Day 0. Arrival at Kangerlussuaq. (please notice you arrive the day before we fly out on the hunt)
Day 1. We fly out and set up camp, and prepare everything.
Day 2+3+4+5+6+7
Day 8 We pack everything down, and fly back to town.
Day 9 We recommend a restingday in town. (a tour to the icecap can be arranged)
Day 10 Hunters fly back home.
Each hunter can bring 20 kg of luggage. (We can bring 300 kg extra stuff on the flight out to camp at 4 hunters)
The helicopter we hire is also used for search and rescue operations, so delays can happen if its out on a rescue mission. So the flight home from Kangerlussuaq should not be planned for the day after we get back to town from the camp, we recommend you put in a extra day in case of delays. We take precautions for any delays and all consequences thereoff, due to Airgreenland delays with helicopter, no matter if its because of rescuemissions, technical problems, weather or other circumstances affecting the helicopter so it doesent fly on time.
Hunters should bring personal equipment, clothes and hikingboots, rainclothes, headlamp, sleepingbag, camoshoes and sunglases.
Tjek your travel insurance if it covers evacuation if it should get nescessary, but we do not recommend you go on this tour if you have serious medical problems that can require quick medical help, like serious diabetes or heartproblems. Evacuation is hunters own risk and expenses. But if you buy your hunt tru one of our normal huntingagents, he have a insurance that covers it. BUT get confirmation from the agent.
Some info about the meat. All outfitters are required to bring back the meat, or store it safely for later pickup. This we manage by salting or drying the meat, and then we pick it up in winter with a snowmobile. The salted meat we water out and coldsmoke it, and the dried meat can be eaten as it is. So nothing usefull goes to waste. If there is extra loadcapacity at the returnfligt, then we bring as much meat as we can there.