AUTUMN HUNT (aug-sept)
This type of hunting is very different from the other trophy hunting companies, on our autumn hunts, the hunter participate not only in the ordinary camp work. But also with carrying trophy and meat down from the mountain, and carrying your trophy home to town.
So the hunt is held very authentic and traditional hunting, in the same way as if it was normal hunters who had gone on a trip together. So it is sometimes hard work, and in the better condition you are, the more you get out of the trip.
So there is no carriers and additional hunting guides to take care of everything.
There are about 98 % success rate for caribou, most are large animals.
For musk-ox our autumn succesrate is about 95%, and almost all animals are old bulls. But it is significantly more demanding than caribou hunting due to the weight of trophies and meat, so the hunter must be able to carry his 35-45 kg trophy.
So hunting musk-ox in autumn is extreme hunting, only for the wery well trained hunter.
Its possible to pay to have the guides to carry your trophy to town for you (area 9), its 10 euro pr kg, and its not included in the tip. Its regular extra payment, because else the guides would carry meat back to town for the bussiness.
Our hunting trips are 6 days, with four full hunting days, two first hunts in august is normally in our konscession area 11, and the rest of the hunts in august + september is in our conscessionarea 9.
You must bring your own sleepingbag.
Huntingcamp area 9:
Transport from Kangerlussuaq to hunting camp is by car the first part and about 7 km of walking (about 5 hours of transport time)

Our huntingcamp is in the north side of the conscessionarea next to a lake, in the middel of the best hunting terrain for both caribou and musk-ox. The camp have a big heated kitchentent with wood floor, and smaller mobile cabins. In the kitchentent there are tables and chairs, cookingfacilities and all you need for a comfortable stay. Only the kitchentent is heated.
In the lake there are arctic char, and if you bring a fisking rod, fishing is included in the price for the hunt.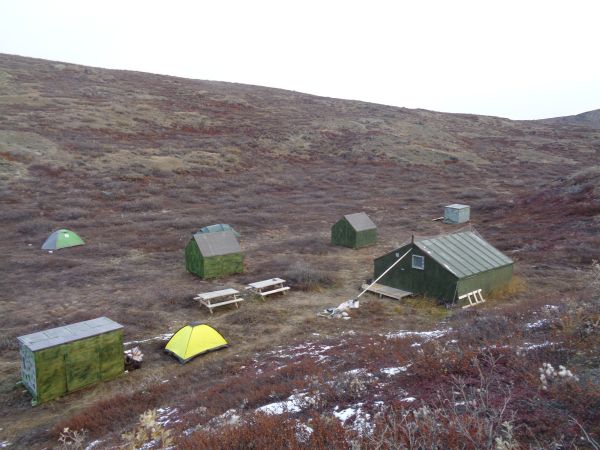 Huntingcamp area 11: (july and the two first weeks in august)
Transport to camp is with car and boat (2 hours)
Our huntingcamp is next to a big lake in the south side of the conscessionarea, right where the best hunting in the area starts. The camp is smaller mobile cabins build together, and heated.
There are no fish in this lake.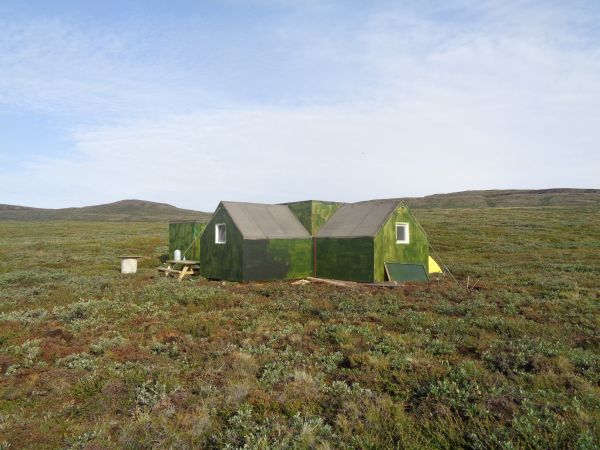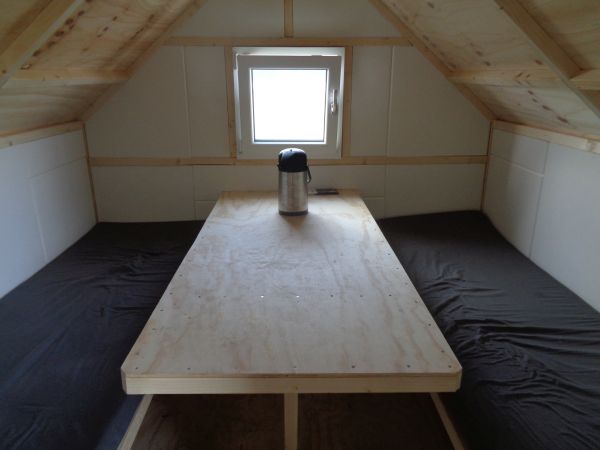 The hunts in both areas:
The hunt is done on foot. So you have to be in a fairly good condition, so you can walk 5 km out, and 5 km back with 30 kg on your back in varied terrain. But the longer you can walk, the better the chance for big animals.
Please notice, we hunt one animal at a time, and when all meat and trophy is back at camp, then we can start hunting the next animal.
Furthermore, please notice, that if we cant carry all down the same day, then we bring down meat first, and trophy is stored in a tent to be carried down next day.
There will be one hunting guide per 2 hunters.
Non hunters can walk along during the hunt, or be in the camp. But there will be no hunting guide in the camp during the day, so no hunters in camp must look after themselves, and make sure they do not go out in the mountains and get lost.
It can be about minus 10 at night in late September, and plus 5-10 degrees during the day, much warmer in august with daytemperatures up to +15 in daytime in the shadows.
There is normal food, oatmeal and with milk, bread and cold cuts, hot food in the evening where we most eat meat from the hunted animals, caribou and musk steaks, as well as tea and coffee.
Its okay to enjoyed a beer or a whiskey or two in the evening, but not during the hunt.
Hunting Plan.
Day 1, transport to camp
Day 2-5, hunting from the camp.
Day 6, transport to Kangerlussuaq.
You can not fly home on day 6, you have to book airplane for day 7.
You can rent a rifle.
Hunter will help with all practical work, fix animals, cook, and other camp work.
After the hunt you stay at Kangerlussuaq Youth Hostel as included in the price.
As it is natural for any hunting, then although the success rate in the area is high, we cannot guarantee you will get animals. You must be realistic with your expectations, and much depends on you, your fitness and skill with a rifle.
For both caribou and musk oxen in autumn hunting, you have to walk a lot, and especially the caribou are very watchful, and is easily scared off if you are noisy or they see you. So it comes to using the terrain, and be vigilant as they can be difficult get close to.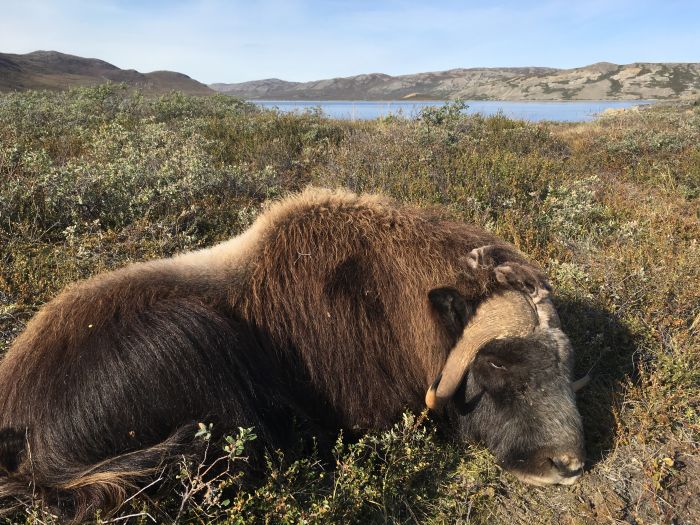 When musk oxen and caribou are shot, we use the rest of the hunt for small game hunting.
Snowhare from 1st august
Canadagose, duck, ptharmigan, loon from 1 september.
Arctic fox all season
Raven all season
Fishing arctic char in the lake at area 9 is also included, but bring your own fishing gear.
It is allowed to bring 5 kg of frozen meat on the plane to Denmark, so its possible to get a little meat from the hunt with you home. If it is frozen and well wrapped, it can keep frozen until you are in Denmark.
We carry additional safety equipment and satellite phone on all trips.